Vassilios Kalogiannis
Studios & Residences
---
Alonnisos
Alonnisos, commonly known as Liadromia, is an island located on the Aegean Sea in Greece. It is an island with many natural beauties and is an ideal place for hikers and lovers of water excursions.
Alonissos is famous for its blue and crystal clear beaches such as Agios Dimitrios, Glyfa, Leptos Gialos, Georgios Gialos, Kokkinokastro, Golden Apple, Milia, Spartines, Votsi, Roussoum, Rousoum Mikros Voutrias, Vithisma, Tsoukalia, Big Sand and many more beaches that you can enjoy on your summer vacation.
Patitiri
The picturesque Patitiri, the port and capital of the island, is full of cafes and taverns where you can sit and enjoy the harbor atmosphere with its many fishing boats and sailing boats.
At the edge of the harbor is a small beach with crystal clear turquoise waters and taller pale yellow rocks with scattered pine trees.
Kokkinokastro
Kokkinokastro is considered one of the most impressive beaches of the island with deep blue sea, cliffs, yellow sand, colorful stones and green pines.
Reaching the beach from above, you can enjoy the view of the huge red cliff that continues deep into the sea forming a small cape.
Alonissos is connected by ferry boat to Volos, Skiathos, Skopelos and Thessaloniki
Beaches & Other Areas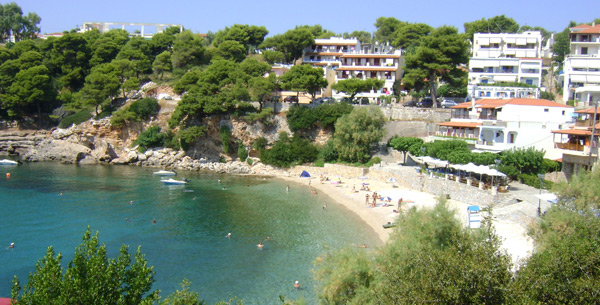 Patitiri
Island's capital surrounded by a lush natural environment, Patitiri has a unique tranquil atmosphere, making it ideal for relaxing vacations..
Narrow whitewashed alleys and stairs give a special note to this small harbor with crystal clear waters.
Roussoum Gialos A beach with crystal clear waters and picturesque taverns, within easy walking distance of Patitiri (7 minutes walk), satisfies every taste.
---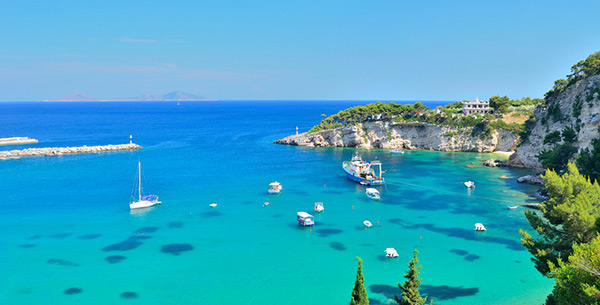 Roussoum Gialos
A beach with crystal clear waters and picturesque taverns, within easy walking distance of Patitiri (7 minutes walk), satisfies every taste.
---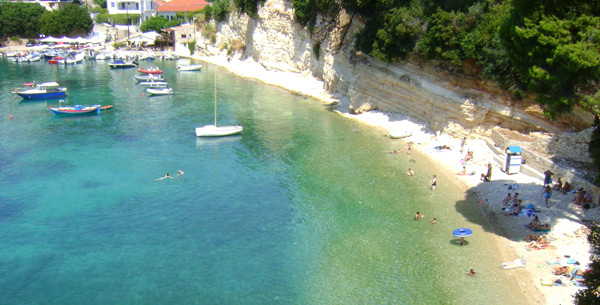 Votsi
One of the most picturesque corners of the island, the village of Votsi with its small beach will fascinate you. A 5-minute drive from Patitiri.
---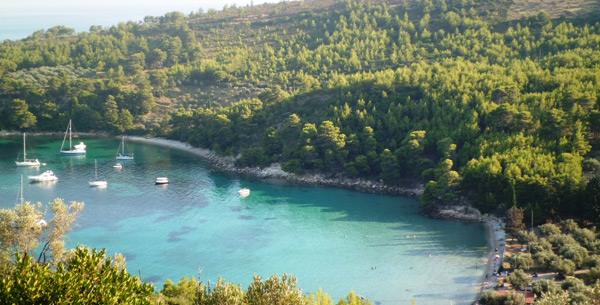 Tzortzi Gialos Beach
The most idyllic view of Alonnisos is perhaps the view of the Tzortzi Gialos bay. The beach gives its own touch to the 'palette' of the island's natural colors.
---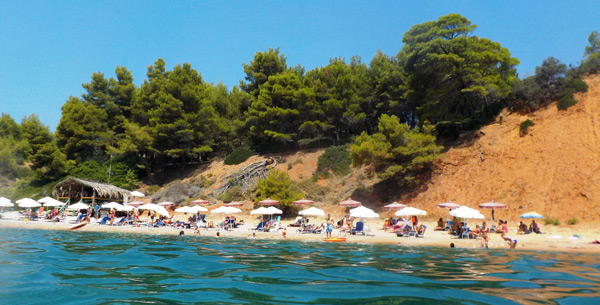 Kokkinokastro
Beach of exceptional natural beauty with hanging red rocks, beautiful pine trees and deep turquoise waters.
---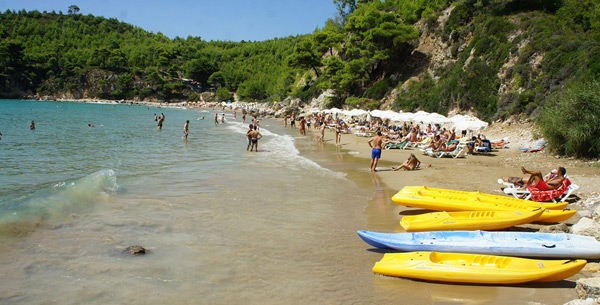 Chrisi Milia
The most popular organized beach on the island with fine sand and shallow water. The bay is surrounded by dense pine forests that feed on thyme.
Sand dominates in and out and shallow waters invite children and adults to endless games.
---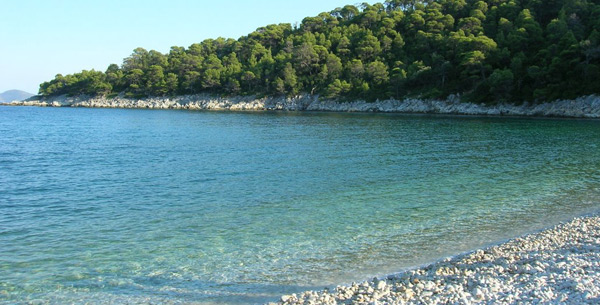 Leftos Gialos Beach
Postcard-like beach with gray rocks and white pebbles. Enjoy the unique view of the two desolate, Two Brothers.
---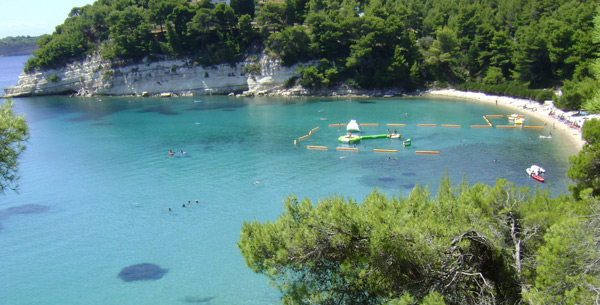 Milia
Milia is a beach in a small bay hidden in the pine forest. Descending to the beach through the forest, suddenly the clear blue waters shimmer in the pine trees.
---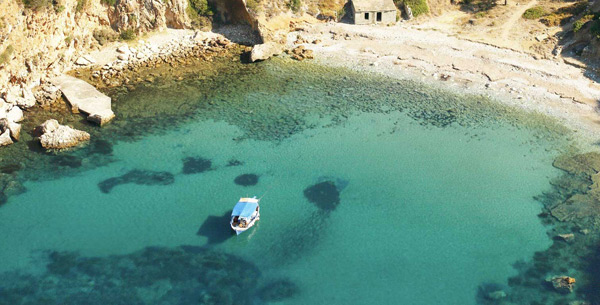 Megalos and Mikros Mourtias
The great Mourtias is a very beautiful pebble beach and blue waters. It is particularly popular because it is beautiful in addition to being protected from meltemia. Next to the more secluded beach of Mikros Mourtias, it offers peace and tranquility.
---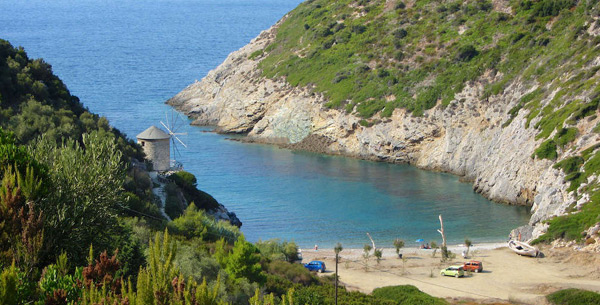 Tsoukalia kai Gialia
Two beaches of unparalleled beauty on the west side of the island worth a visit mainly in the afternoon to enjoy a swim in the sunset.
---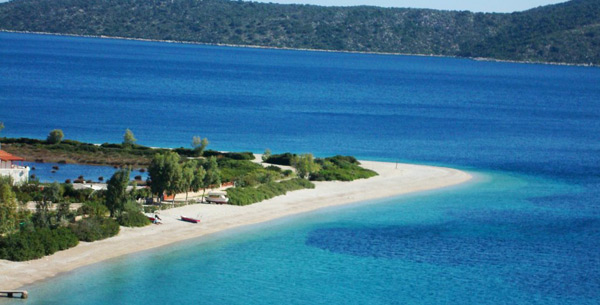 Agios Dimitrios
The incredibly photogenic beach is among the best beaches on the island. It is very large with crystal clear blue waters, white pebbles that give it an exotic color and opposite the small islet Peristera.
---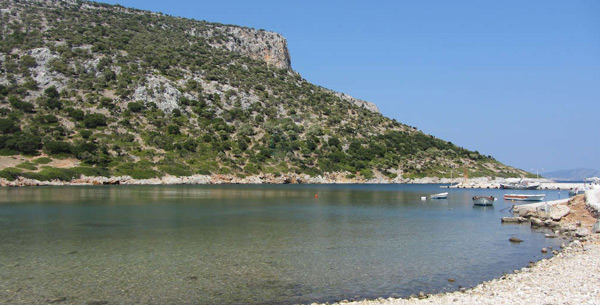 Gerakas
It is located in the northernmost part of the island. It may have a drier landscape than other parts of the island but it is worth a stroll, as you will find complete tranquility and take in a wonderful route with fantastic views.
---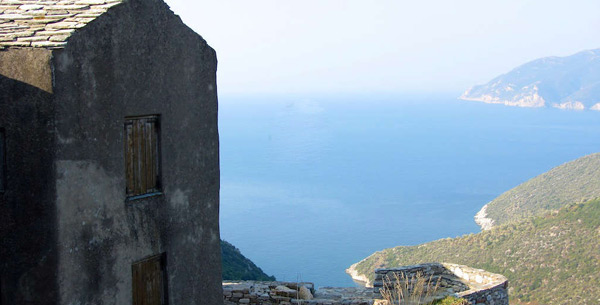 Palio Chorio (Chora)
The old settlement of Alonissos, built on a strategic point with exquisite views from above, retains its traditional character.
---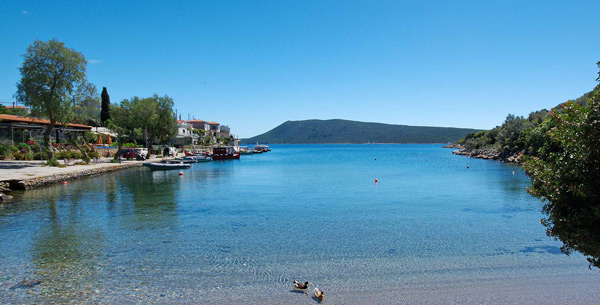 Steni Vala
The picturesque fishing village with tavernas serving amazing fish nuggets next to the cruises that bring them from the rich Mediterranean corner.
Local Cuisine
Fresh fish is a daily treat for both locals and visitors alike. Alonissos is famous for its caviar, tuna, lobster, tsipouro meze and its various pies such as cheese pie, bouzouki and bgi.
Don't forget the local delicacies such as blisters, almonds and chamomiles.
Access
How to come
Alonissos is connected by ferry to Volos, Skiathos, Skopelos, Agios Konstantinos, Thessaloniki, Kymi and Mantoudi
How to move around
During the summer, the Municipal Bus runs regularly from the port (Patitiri) to the Village (Old Alonissos) as well as to Steni Vala.
In addition, there is another private bus that runs to the beaches of Golden Apple, Kokkinokastro, Lefto Gialos and Agios Dimitrios.
Taxis meet the needs of the visitor throughout the year.
For those who want more independence, there are car, scooter and bike rental agencies.
---